Canyon Lakes
Property Management
We Manage homes, condos, and apartments.
"Straight forward Pricing and Shorter
Vacancies are just the beginning"
– John Xepoleas, Broker Owner
Hassle Free

Full Service

Property Management
Our Full Service Property Management System is designed to take the hassle out of owning rental property. Our team of licensed professional handle it all, all you have to do is check your monthly statement and receive a monthly check. For more information download our system brochure.
Rental Agreement Execution and Enforcement
Online tenant rent collection
Fast ACH/Direct Deposit Owner Draws
24/7 Cost Effective Maintenance
Regular Property Inspection
Online 24/7 Owner Financial Reporting
Legal Guidance and Eviction Support
MANAGEMENT
REPORTS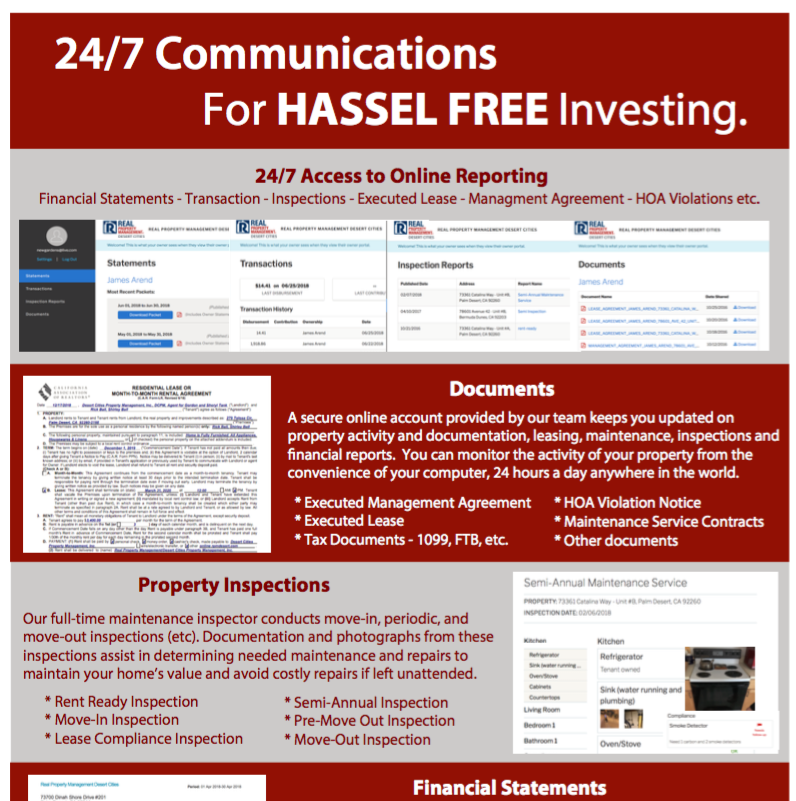 Coachella Property Management
Coachella is a quiet community in Riverside County that has seen its population grow rapidly in the new millennium. In spite of this new growth, Coachella itself remains a relatively small town and an oasis from some of the hustle and bustle in other parts of the Coachella Valley. The city's affordable housing options and close proximity to nearby agricultural operations have long made Coachella a popular option for working class families .
Most of Coachella's commercial activity takes place on Harrison Street and Grapefruit Boulevard, the city's main throughways. Coachella has a strong Hispanic influence, as the area once attracted many immigrants. These historic ties are notably present in Pueblo Viejo, the historic older portion of the city. Coachella also celebrates multiple festivals and events throughout the year, including large Cinco de Mayo and Fiestas Patrias parties.
Purchasing Coachella Rentals
The population of Coachella has doubled since 2000, creating a massive need for new housing. To meet this need, many developers have built single family homes and apartment complexes. In spite of this, the lack of housing options has made for a tight rental market with an extremely limited supply of available units.
With a large pool of potential tenants and population slated to continue growing, investing in Coachella housing could prove a valuable proposition for motivated investors.
Working with a Coachella Property Management Team
Of course, turning a profit in a Coachella rental is often easier said than done. Property management comes with countless challenges—from finding qualified tenants for the unit to responding to maintenance requests and processing rent checks, many investors find management can quickly become a full-time job.
Working with a trusted Coachella property management team offers a convenient solution for local landlords. At RPM Desert Cities, we've helped countless property owners to get more out of their rental homes. Our team understands the challenges of the Coachella rental market, and we make continual suggestions to help our clients maximize the return on their investments.
Interested in learning more? Schedule a free consultation with our team to learn how we can help you meet your financial goals.
Call us to get started: (760) 687-2400